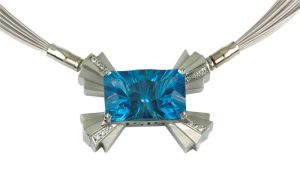 Avery's 'Double Diamondback' rubellite and indigolite tourmalines are a case in point. The white gold hinged bangle in the photo on page 30 looks simple, but was complex in construction. We made a pair of white gold rails to fit the three gemstones, in addition to the bearings used to support the stones from behind. We bezel-set two small princess-cut diamonds, securing them at either end and undercutting the bezels to fit the indigolites' girdles. We also undercut the two larger bezel-set princess cuts to fit the tourmalines, and attached smaller square tubing to their undersides. For the final setting, we fit the tubes of the large diamonds into sockets on the underside of the bangle's top and secured them with a laser welder. This technique required very close tolerances, but the final result could not have easily been achieved without laser technology.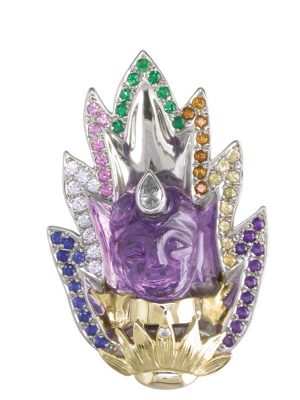 Recently, a client purchased a 22- x 11-mm concave-cut blue topaz. Inspired by the gem's radial reflections, we modelled the pendant in CAD, creating stepped angled rays to enhance the stone. (We hollowed out the back of the rays to prevent the piece from being too heavy.) A frosting of pavé diamonds and bead-blast texture provide contrast. We milled the pendant in one piece and incorporated my logo on all four sides of the bearing, repeating it on the back plate, which was milled and cast separately then welded to the claw setting. I could have had the pendant grown in one piece via rapid prototype; however, we decided it would have been impossible to properly clean and finish its hollow back, had it been cast as one. The addition of a bayonet clasp system allows my client to wear it on various chains or pearl strands.
For a client who studied Eastern religion, we created a pendant for which the genesis was a Buddha head carved in amethyst. This was set in a flame-shape shell with blue sapphire, diamond, pink sapphire, emerald, topaz, yellow diamond, and amethyst, as well as an engraved lotus flower. These are the colours of the seven-fold flame, significant for the Buddhist theme.