Like cats and dogs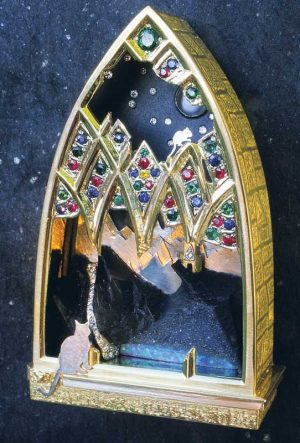 A couple was inspired by a trapezoidal boulder opal. They saw it as a doorway to another dimension. They had recently lost their cat at the ripe age of 20 and discussion led to creating a memorial brooch. Since the couple liked Victorian-era architecture, we crafted a frame and door in gold that swung open to reveal the full view of the opal, with a platinum silhouette of a cat sitting in front. The cat is looking up, spying a mouse carved in relief in the keystone of the door's arch.
A rainbow of gemstones reflects the opal's colours to complete the story.
A few years later, the same couple welcomed their first child and they commissioned another brooch to tell her story. This time, they wanted water and a mountain, for which I found a piece of druzy black agate with a natural fractured surface. I used a narrow piece of black opal to serve as the lake, which was reflected in a polished white gold mirror base and a diamond pavé waterfall tumbling down from the peak. I added a layered white gold mountain range to the background. Maintaining an architectural theme, the mountain was set behind a crumbling gothic arched window frame, which featured multicoloured gems set into the broken stained glass window. The cat re-appears, sitting on the window sill, gazing at the mouse perched on the window and looking across the valley at another castle in the distance. The constellation matching the daughter's birth sign is picked out in tiny diamonds flush-set in a blackened silver sky, while a translucent moonstone displays the phases of the moon (adjusted with a dial on the edge). Hidden behind the window is a comet with a freshwater wing-shape pearl and gold tail fixed in the sky. The piece was entitled 'Time and Three Tails,' a subtle pun on telling the family tale.
Perhaps more amusing are three key fobs we made recently. The client is a hobbyist sculpture and arrived with a comical soapstone moose measuring 70 x 50 mm he had carved. I had it scanned in 3-D and imported the file into my CAD software to reduce it to a suitable size for the fob. We milled three in wax and cast them in sterling silver, adding a jump ring for the attachment, a chain, and split rings. I have used the same scanning and computer processing from paw prints some veterinarians make of a client's pet to create commemorative key fobs, as well.
Jewellery design is a multifaceted discipline—it offers a challenge and great satisfaction as you seek inspiration for your work, most often by combining more than one source to achieve your goal. Feel free to explore all the many avenues available in conjunction with your personal style and design. There is no end to the possibilities.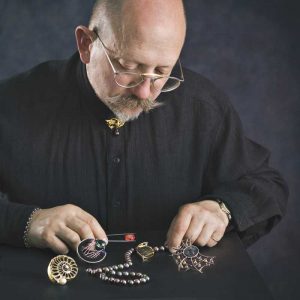 Llyn L. Strelau is the owner of Jewels by Design in Calgary. Established in 1984,
his by-appointment atelier specializes in custom jewellery design for local and international clientele. Strelau has received numerous design awards, including the American Gem Trade Association's (AGTA's) Spectrum Awards and De Beers' Beyond Tradition—A Celebration of Canadian Craft. His work has also been published in Masters: Gemstones, Major Works by Leading Jewelers. Strelau can be reached via e-mail at designer@jewelsbydesign.com.