Photo op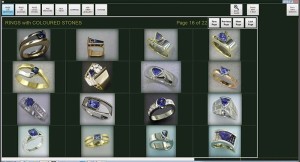 Virtually every piece we make is photographed and these images are entered into our database, along with details of metal quality and weight, gemstone type, cut, dimensions, weight, and quality, a link to the original stone purchase, approximate number of hours for fabrication, and the final selling price. While price information rapidly becomes dated, it can allow for a quick calculation at current costs when I need to provide a client an estimate to create a similar piece. This finished jewellery database is linked to the visual portfolio I use when working with clients.
The visual database portfolio is separated into categories:
rings with diamonds;
rings with coloured gemstones;
rings without gemstones;
earrings;
pins/brooches; and
wrist wear and neck wear, which are further broken down into subsets, such as cufflinks and bracelets, or pearl strands, chains, or pendants, etc.
When a client comes in to discuss the creation of a new piece of jewellery, the first thing I usually do is sit them down with a computer mouse and ask them to take what amounts to a jewellery Rorschach test! (Alternatively, I have a second station with a touch screen-enabled computer where even computer-phobic clients can easily navigate the system themselves.) Their mission is to work through the portfolio and, without spending too much time analyzing their response, choose images of jewellery that appeal to them and drag these photos into their own personal 'favourites' folder.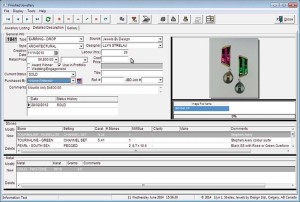 The intention is not for them to find the perfect ring or pendant for their needs—after all, the portfolio is made up of all the pieces we have designed for other clients and no one has the same precise design requirements. I prefer the client almost subconsciously choose images that speak to them in some subtle way. It could be the general form, a gemstone's colour or shape, the metal's colour, or simply a gut reaction to an image.
This initial pass through the database is intended for me, the designer, to delve deep into the client's 'psyche' and hopefully reveal a general preference or direction that will give me a starting point for the new design. It can uncover things about the client even they did not expect to reveal.
Once the initial survey is completed, the client and I go through their selection of favourites and discuss what it is about these they find appealing. Usually, a theme becomes apparent (although there have been occasions when a client lands on one design that suits their needs completely and we move on to the next step). The choices they make jump-start a dialogue, which is the next stage of the creative process. As still photographs do not completely convey the intricacies of a piece's design, it is up to me to talk the client through the various choices and gently lead them to a clearer decision.
At this stage, the pencil generally comes out and I start drawing rough sketches to refine the concept. Since my skills as a draughtsman are sadly limited, I resort to using computer-aided design (CAD). Although we may ultimately have the piece milled or grown using computer-aided machining (CAM), at this early stage, simply being able to model and render various versions of a design is usually enough.
One tip to consider here is that sometimes it is better not to provide a photo-realistic render of the design. Some clients may take this image as being completely representative of the finished product. Even a piece that has been modelled and created by computer technology must still be hand-finished and the 'real' piece, while close to the computer-generated render, always has some variation (typically better in fact). However, if a client takes the render too literally, it can cause them to feel the finished piece is a deviation from the design. Instead, consider software applications that render a design to look like a pencil or watercolour sketch.