A matter of perspective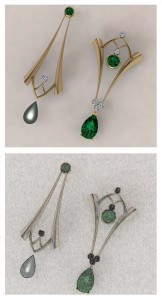 As the process continues, I have other methods to help a client visualize the new piece of jewellery. If a design incorporates gemstones (either supplied by the client or sourced from our inventory), there are several useful techniques to help resolve design considerations. We keep a stock of silver models of some of our more popular styles. These are not usually highly finished and are deliberately left in a rough state, again, to allow for flexibility in the design. I have even also used a scissor and piece of lightweight card stock to make a quick representation of a piece of jewellery. All of these tricks help give a client a higher level of comfort during the design process.
Of course, the other method we find useful is showing the client a wax model of a piece prior to it being cast and finished. Even though it may mean he or she must come in for several appointments, with some designs and some customers, it is vital to take the process slowly and step by step.
By combining the actual gemstones being incorporated, the silver, wax, or paper models, and optional diamond simulants (I keep an inventory of cubic zirconia in a range of sizes and shapes), a piece can be mocked up in 3D form the client can hold and even put on their finger. One of the most useful tricks I have discovered is the use of blue tack, which is putty designed for sticking photos or paper to walls for temporary display. This material is perfect for attaching a gemstone to a silver model. For clients who do not have a strong grasp of spatial relationships and have trouble visualizing a design from a sketch or even a computer model, they will instantly be able to 'see' what their new piece might look like. The sticky putty does not leave a residue on gems and is strong enough to allow a stone to be attached to a chain or earring to really give the client a feeling for the design.
The use of these simple and effective techniques can pay big dividends when working with custom design clients. It's very gratifying as a designer to watch the 'lights' come on when I stick a diamond belonging to my customer's grandmother on a model, when previously they simply could not imagine what it would look like in a new mounting.
Another little trick that can help clinch a custom design decision is to have the client look at her hand or neck in a mirror. Getting a 'new' perspective on what the piece looks like from an observer's viewpoint, especially with rings, can be very useful.