Sizing up the situation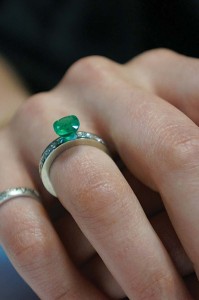 When sizing a client's finger, it is important to use a sizing ring that is close to the width the new piece will be. A narrow band fits more loosely than the same finger size in a wide band and you will need to allow for this difference. Although you can now purchase sizing rings that are comfort-fit, we made our own set in sterling silver several years ago (a great exercise for an apprentice jeweller!). We also took a set of regular wide sizing rings and re-shaped them to soft-square, taking the guess work out of sizing this style of ring. Another factor that is sometimes neglected is to be sure all the sizing rings and ring mandrels in your shop (or on the workbenches of whoever makes up your designs) are calibrated. I have seen ring mandrels and sizing rings that vary by at least half a size, which causes unnecessary problems.
One of the more 'unpleasant' events when working with a client, both for custom design and simply for cleaning or sizing a ring, is when the client is trying to take off a piece that is snug. Often, their first impulse is to lick their finger to make it slippery enough to slide the ring off and then they blithely try to hand the ring to the jeweller. I find this rather disgusting (to say nothing of unsanitary). To avoid this, I always have a small spray bottle of generic blue window cleaner handy and try to whip this out before the ring reaches the client's mouth. (Eyeglass cleaner works well, too.) The cleaner is not only slippery, but it can add a bit of sparkle to gemstones.
Alone or in combination, these techniques can help avoid the unfortunate situation of a disappointed client. Rather than their eyes shining with delight, they complain the final design is not at all what they were expecting. These tips aren't entirely foolproof—no matter how carefully you guide your client through the process, there are some who can only safely purchase a finished piece with no surprises. However, incorporating some of the techniques discussed here might allow for a smoother design process. And who wouldn't want that!

Llyn L. Strelau is the owner of Jewels by Design, a designer-goldsmith studio in Calgary established in 1984. His firm specializes in custom jewellery design for a local and international clientele. Strelau has received numerous design awards, including the American Gem Trade Association's (AGTA's) Spectrum Awards and De Beers' Beyond Tradition—A Celebration of Canadian Craft. His work has also been published in Masters: Gemstones, Major Works by Leading Jewelers. Strelau can be reached via e-mail at designer@jewelsbydesign.com.