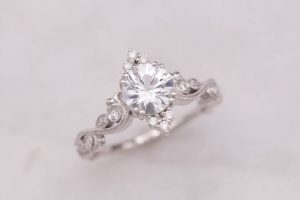 The royal wedding between actress Meghan Markle and the U.K.'s Prince Harry may be making waves in the news, but is it doing the same in bridal jewellery? A recent report seeks to answer this question, compiling data from Google Analytics as well as the website of designer CustomMade to explore trends in custom ring design.
Compared to the sharp rise in popularity enjoyed by sapphire centres after Kate Middleton's sparkler was revealed in 2010, Meghan Markle's yellow gold engagement ring has had a relatively soft impact. Although searches for three-stone settings and cushion-cut centre stones like those seen in Markle's ring did jump shortly after the engagement was announced, actual requests for rings fitting those descriptions experienced only modest growth.
The report indicates eight per cent more requests for yellow gold rings and 21 per cent more for cushion-cut centres since the engagement. Requests for three-stone settings remained steady, with no significant increases or declines.
However, the study found recent custom requests reflect the royal engagement ring in a different way. Markle's ring features strong elements of personalization, such as diamonds from Botswana (where the couple travelled together) and Princess Diana's personal collection. Similarly, the custom ring requests covered in the study heavily feature family gemstones and gems representing places of significance.
"This is a trend we've seen develop over the last decade," the report reads. "Customers are much more focused on the meaning behind their design, and not as much trying to emulate a specific style."
For the full report, click here.