Drive emotion and design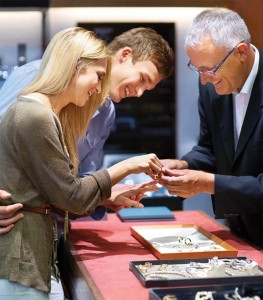 In a Harvard Business Review blog, writer Dian Wang notes while some consumers allocate their entire budget to the diamond alone, others see better value in a stone that comes with personalized service or has a certain brand attached to it.
"For men who are hiring a diamond seller because they are nervous about finding the perfect ring, a brick-and-mortar retailer is a safer bet," Wang writes. "In a store, they can gauge a particular diamond's sparkle with their own eyes, or they can confer with the jeweller, relying on his [or her] artistry. In a high-end store, they can be assured the choices are socially affirmed, expert designs."
As independent jewellers, we must resist indulging in a pity party simply because online diamond suppliers are undercutting us left, right, and centre. Instead, we need to recognize and play up our strengths. Take, for example, an intimate, boutique-style store offering unique, custom pieces they won't find anywhere else. There is a whole segment of consumers to which this type of store will appeal.
Unlike other retail products, jewellery in particular is driven by sentiment and meaning; it is purchased to celebrate milestones and mark special occasions. While many consumers desire a personal customer experience, the challenge is to find the ones that do not and up your game to win them over.
An independent diamond supplier based in London, Ont., Vantyghem Diamonds has been on the front lines of the diamond industry in Canada for 40 years. Father-and-son duo, Ralph and Kevin Vantyghem, have found continued success by staying focused on the strengths of their business, rather than trying to be like the online 'Goliaths.'
"Taking our so-called disadvantages and turning these into advantages is important," Kevin explains. "For example, small companies (i.e. the Davids) have a much easier time building business relationships, and where there is trust, there is confidence. Confidence inspires relationships, leading to successful professional synergies. Service is of the utmost importance to retailers—promptness and efficiency. 'Davids' do this very well! Being small means being quicker and more nimble! Bigger isn't always better."
Once you find your niche, you can easily identify your target customer and reach them in a more effective manner. Focus your energy on finding people who are interested in the experience you're offering, the social aspect of the purchase, or the idea that a piece is being made specifically for them. Your clients know the difference between something that is an assembly of parts and an item that is truly custom made to suit their individual style and taste. With the help of the Internet, consumers can easily and cheaply assemble a mount and a setting to create a standard ring. However, incorporating their own design elements is not something that can easily be accomplished without the help of a jeweller. To bring their vision to life, you can either use CAD or a pencil rendering to create a designer experience in your store—a luxury experience for a luxury item.
There is also a growing trend amongst consumers for their jewellery to be made from ethically sourced materials. This socially conscious group will happily pay for certain custom products in light of the ethics attached to them, something that online diamond suppliers would have a hard time matching.