A lasting memory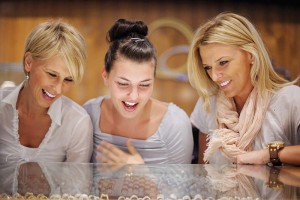 With all the hard work that's required just to get consumers into your store, be sure once they are there that your branding carries through in a unified way. Clear out clutter and create a stylish and comfortable place where you can sit down with clients and chat about what they're looking for. Remember, you want to sell the experience, and simply standing behind the counter is not going to cut it. Instead, engage the customer and make their time in your store memorable. By having interesting and unique products on hand that complement your brand and also appeal to your target market, you can create talking points to engage your clients and put them at ease. You can present this as if you're giving the customer the inside scoop on a new trend. It's a way to build conversation and develop a rapport, two vital things online diamond suppliers cannot do.
"We have to remember jewellery and diamonds are luxury items," Kevin says. "Therefore, we have to look and feel the part, whether it is updating the store, keeping the website current and fresh"¦ or tapping into new and young shoppers. Shopping malls and big box stores are still being built; people still like to be in a nice store."
Contrary to what many of us feared when online diamond suppliers began cropping up, they are not completely disruptive to the jewellery industry. They may be undercutting prices in a way that can't be matched, but by finding a niche and catering to your target market, you can effectively deflect this seeming disadvantage, giving you the competitive edge only a brick-and-mortar store can offer.
Jeffrey Ross and Patti Moloney are a husband-and-wife duo that has used innovative thinking and technology to develop and expand their line of Dimples charms across Canada. They are also owners of Jeffrey Ross Jewellery, a retail store in Uxbridge, Ont.