Fight fire with fire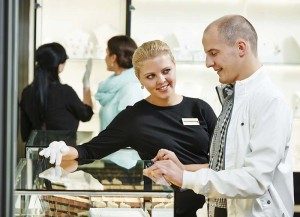 Ask yourself the following question: What does my brand stand for? A brand is a promise you keep and it must be communicated appropriately for the audience you're trying to reach. It must flow through your business from top to bottom through channels such as the way you answer your phone, the look of your website, and your marketing materials. Customers are more likely to remember a unified message.
Despite being a brick-and-mortar store, a big part of your success will be in creating a strong online presence, as this is where most shoppers begin their search before physically visiting a store. Therefore, it is vital your website is content-rich with keywords your target audience is likely to use when searching online. The goal is for your website to land at the top of the search engine list; using appropriate keywords and meta tags will help achieve this.
For example, if your niche is rare and coloured gemstones, use keywords and meta tags that include the types of gemstones you offer. At our store, we recently created a unique custom piece using morganite, later posting a picture and some text on our website, along with the corresponding keywords and meta tags. Since then, we've received several inquiries from people who found us online after googling morganite and custom jewellery. In fact, we appeared at the top of their search list.
Social media is another effective tool to bolster your online presence. While it is time-intensive, it is also an inexpensive and often free way to reach your target market. A presence on Twitter, Facebook, Pinterest, and Wanelo are all great ways to stay top of mind with your customers.