Diamond
There are a lot of options in the natural gemstone kingdom to stand in for diamond, but few of them can really take its place. Not everyone can afford diamonds these days, but many people would love to have the qualities associated with them: colourlessness, good lustre and cut, and large size. Having other options can show the client he/she has a choice in the matter and allow you to respect his/her budget without opting for synthetics. Four natural colourless gemstone alternatives are sapphire, topaz, zircon, and quartz (Figure 1). Each offers unique advantages and disadvantages and can fit different budgets.
Budget plays a big part in clients' decision-making most of the time, but there are also other characteristics they should consider to make the best, most educated choice. For example, sapphire is the second-hardest gem after diamond in this category, but if you want to see fire in the stone, zircon is the best option. It all depends on the feature the client wants most—for example, if he/she desires low cost and good hardness, quartz would be best, while those looking for a long-lasting, hard gem should choose topaz. (Quartz can also be found in Canada, which can appeal to those who want Canadian gems.)
Some other, less-known alternatives include goshenite (colourless beryl), rutile (a rare find), danburite, petalite, and garnet (for more, see the 14th edition of Guide des pierres précieuses by Walter Schummann).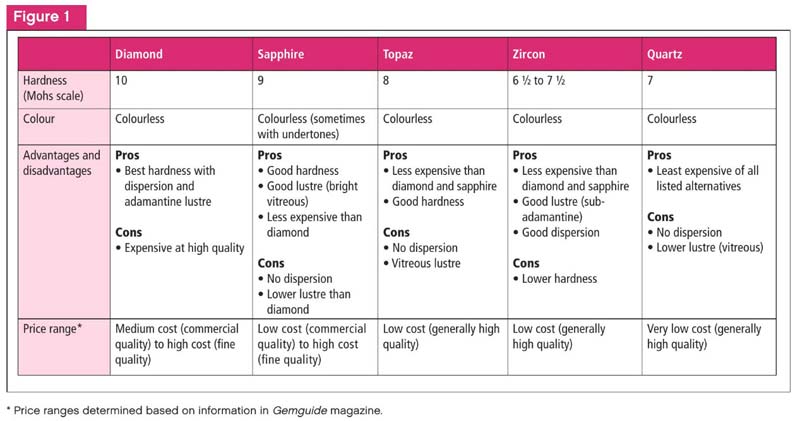 Ruby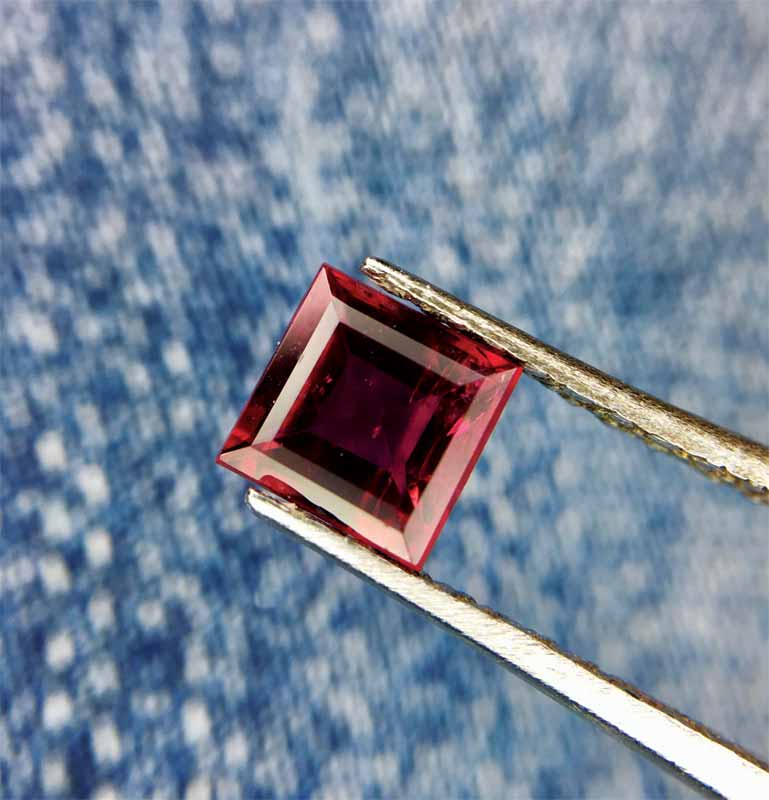 The blood-red colour usually associated with ruby is one of the hardest to achieve naturally. Along with sapphire and emerald, ruby offers one of the richest colours in nature. More often than not, it is also included and pinkish in colour when the highest quality cannot be reached. Substitutes for this gemstone are limited, but not impossible to find. Natural alternatives to provide its attractive colour include garnet, rubellite, spinel, and zircon (Figure 2).
Of these options, spinel would be the closest to ruby in colour and hardness, but its prices are also quick to rise—though they are still not at the same level as ruby of the same quality. Following closely behind is zircon with its deep red colour. The only problem with zircon in the long term is abrasions, which appear more easily than with the other choices.
Most of the time, garnet (the low-cost option) has a brownish tone with the red. This does not bother everyone, so it is a good possibility. Rubellite can be found with a deep red, but most often it has a pink tone making it more fuchsia, and it is also frequently a gem that has inclusions.
Red fluorite, bixbite (red beryl), andesine, and dravite could also be strong options.