Emerald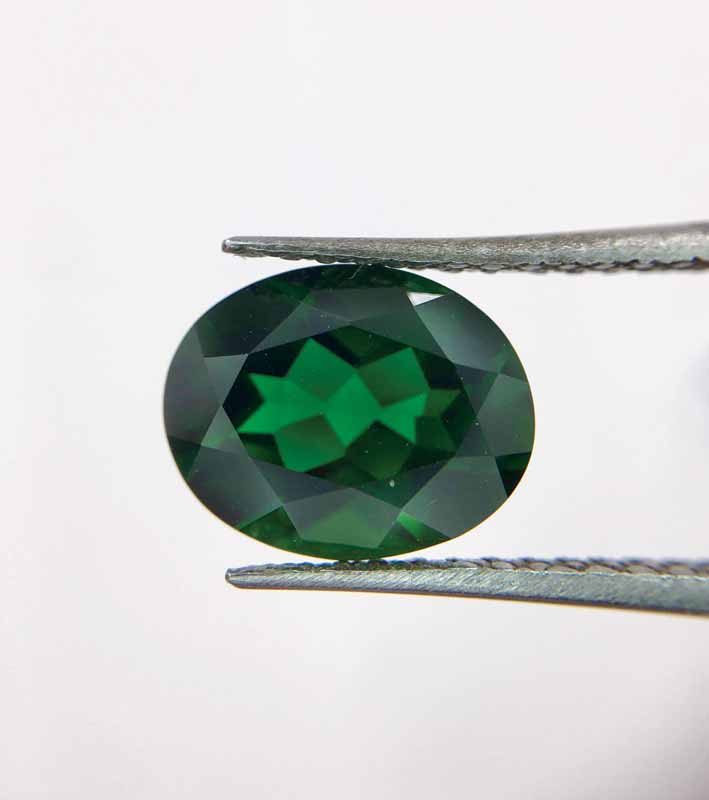 Emerald is a classic in the gemmology and jewellery realm. Its reputation and fame gave it a chance to rise amongst the biggest sellers in the modern market despite its mostly included state and fragile composition when it has to be set. Finding gemstones to stand in for it is easier than with ruby, but some lesser-known gemstones might prove a challenge to sell to clients. Possibilities to replace emerald include tsavorite garnet, diopside, sapphire, and tourmaline (Figure 3).
A good technique to start introducing these lesser-known gems to clients is improving your knowledge. Know what you sell and clients will know what to buy. Tsavorite, for example, is an easy introduction—it's a green garnet. Reassure clients by offering a gemstone they know, but in a new colour. Green sapphire is also a simple one, as sapphire is a well-known gemstone, has good hardness, and is the September birthstone. It is also a bit harder to find, which makes it all the more precious to your customers. Another option, tourmaline, is an appealing rainbow gemstone offering all the tones Mother Nature can create.
With diopside, on the other hand, the best colour comes from the chrome element in the stone, so chrome diopside is deep forest green. The most attractive specimens are often five carats or less and melee is used to accent bigger gemstones on jewellery. The low price and the fact diopside is a collectors' stone give it an advantage on other gems if the client wants something different. It can also be found in Canada.
For customers seeking additional alternatives, retailers could offer gems such as peridot, green beryl, fluorite, dioptase, or kornerupine.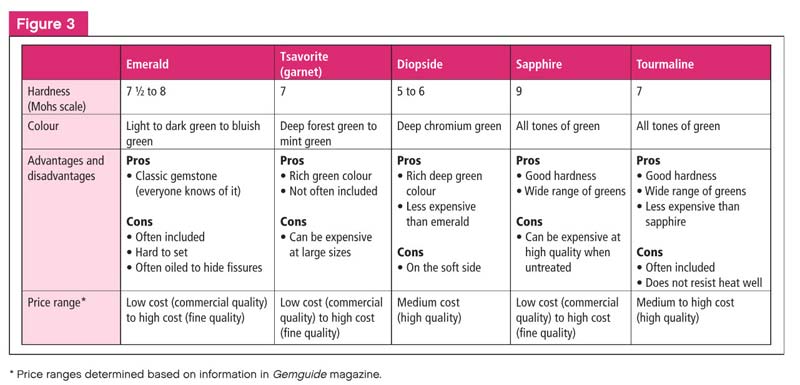 Sapphire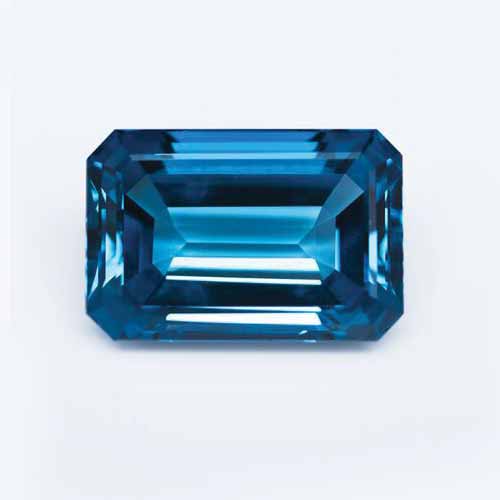 The sapphire, part of the corundum family like ruby, made its place in our world as a pillar of the jewellery industry. Its hardness (just after the diamond) and its wide range of blues, from light to dark and from royal to Kashmir, have made it a must-have in any collection. Finding natural gems similar to sapphire is no easy task, but any gemmologist loves a good challenge! Spinel, tanzanite, indicolite tourmaline, and kyanite are all great options (Figure 4).
Spinel will always be a good choice as an alternative to sapphire or ruby, due to its similar chemical composition and colour. It was often misidentified as corundum in the past. The second best in colour would be kyanite, but its low hardness makes this stone difficult to set in anything other than earrings. Tanzanite has always been a good option to propose to clients who like blue, but do not really know anything apart from sapphire and want a unique gem from a unique locality. Tourmaline is in the middle: middle prices and middle colour with a slight grey in the blue. It can also be like London blue topaz in colour, but comes with good hardness and a vast range of tones.
Lesser-known alternatives include iolite, London topaz, benitoite, cordierite, and zircon.