Enter the insurance industry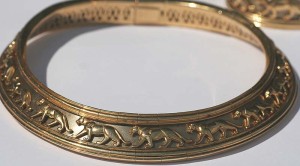 When a consumer suffers a loss and wishes to replace a branded item, he or she expects to receive a comparable item from the same brand. That said, I feel it is important to emphasize the following point, which is that appraisers have no control over how an insurance company chooses to replace a branded item. This comes despite our best efforts to describe the piece and the brand's impact on its final value. Sometimes, insurance companies do not consider brand value and employ various methods of settling a claim, all to varying degrees of satisfaction for the policy holder. Insurers at times will replace the piece with a similar brand name item or pay the client based on the appraised amount in an 'agreed value' policy, or on a depreciated value, also referred to as 'actual cash value' (ACV). Of course, the best outcome for the consumer is when the insurance company replaces the lost item with an identical piece from the same brand.
Much will depend on the insurance policy terms and conditions, as well as the type of coverage the client has purchased. It may also depend on how much non-jewellery coverage a client has purchased (i.e. art, home, auto, etc.) and, unfortunately, how valuable he or she is to the insurance company. (In any industry, the cost of doing business is sometimes outweighed by the importance of a client.) At times, this may seem unfair, but it is truly out of the appraiser's hands and an issue to be negotiated between the client and the insurance company. In any case, when the appraiser provides a detailed description and credible explanation of market research and opinion of value, it offers the client and insurance company a useful document with which to negotiate.