Appraising branded designer period jewellery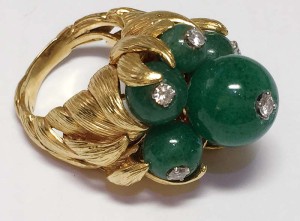 What should you do when the branded jewellery is old enough to fall within a particular collectible period? Consider an art nouveau gold pendant with plique-à -jour enamel signed "Lalique." First of all, if you are unfamiliar with signed period jewellery, common appraisal ethics and standards advise you turn down the assignment. However, if you really want to take it, you must disclose your lack of knowledge to the client and obtain permission to collaborate with a specialist. You also need to disclose this clearly in your appraisal and name the specialist who materially helped in your appraisal report.
Your next step is to research sale prices of comparable plique-Ã -jour enamelled pendants of the period signed 'Lalique.' A pendant such as this may be found among high-end antique and period jewellery dealers. If you can only find comparable sales in the auction market, then a discussion with antique dealers would reveal what type of markup they would apply if they were to sell the piece in their store. Even though the piece is rare, you will still be able to arrive at a credible explanation of your research, analysis, and opinion of value for a comparable piece.
A vintage pair of gold and lapis lazuli clip earrings signed 'Tiffany & Co.' is one example I encountered recently. Originally designed by Angela Cummings, these earrings were very popular in the early 1980s and have made a comeback. After conducting market research, I discovered vendors of signed vintage jewellery sell them for $4000. An unsigned vintage pair, however, may sell for half that amount.
Here is another approach that may or may not be acceptable to your client's insurance company. If your client wants an exact duplicate, you may suggest he or she obtain an appraisal directly from the designer. For example, I appraised a Cartier Panthère necklace design that was retired more than 20 years ago. My client wanted to purchase coverage for the same model—a custom order from Cartier—rather than coverage for a similar pre-owned piece. As you can imagine, Cartier was happy to oblige with its own appraisal report. Once again, this is a conversation your client needs to have with their insurance company.