Challenges when appraising brand names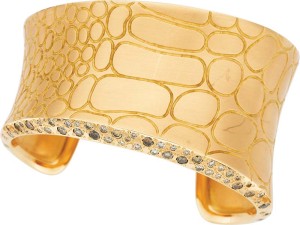 Some brands are household names. Think Tiffany & Co., Cartier, Van Cleef & Arpels, and Harry Winston. They are long-established, as well as easy to identify, research, and describe in an appraisal. Other brands can be more challenging. These are national or emerging brands that are recognizable, though not long-established powerhouse marketing machines like Tiffany and the others. In this category, I would include designers like Todd Reed, Lorraine Schwartz, Gurhan, Pomellato, and Irene Neuwirth. In addition to reading jewellery trade and fashion magazines, an appraiser needs to keep up with both established and emerging brands by attending trade shows, visiting local jewellery and department stores, and researching online vendors that carry designer jewellery. It can also be very helpful to keep a database of established and emerging brands. I have a series of nested folders alphabetized by designer/brand name where I store comparable sales, designer contact information, and photographs of trademarks and signatures, along with my research notes.
Brand does not always equal quality
I say this with all due respect to the brand names and designers who take pride in their workmanship and unwavering attention to quality control. Brand-name recognition and subsequent value are independent of quality and are established through marketing. Take proprietary diamond cuts, for example. No doubt they are unique; however, it's not unusual for some to have poor light performance and only fair proportions when measured against accepted industry standards. Some of these diamonds are heavily marketed and trade at excessively high retail prices in tourist traps. When a client suffers a loss, the diamond can only be replaced with the same patented cut by an authorized distributor.