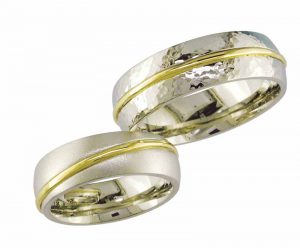 Especially in North America, the modern bridal tradition is for the woman to be given an engagement ring signifying both the beginning of the relationship and acknowledgement the union will culminate in marriage. However, many couples (including same-sex partners) choose to forgo the engagement ring and only exchange rings to mark their union. For simplicity, I refer to these as 'wedding' rings, whether or not the couple actually has a formal ceremony or ritual to consecrate their union.
While for some couples, only one of the pair will actually wear a wedding ring, for many the design of the rings is a very important part of planning their lives together. I have worked with and designed hundreds of wedding rings in my career, and it is fascinating to look back at some of the variety there has been.
Of course, the personalities of the individuals will ultimately govern the design of the rings. In some cases, the bands will simply be plain metal (gold, silver, platinum, or even titanium or cobalt). They may be a basic pipe style or have a variety of half-round or bevelled cross sections. Plain bands are chosen either because of lifestyle (very active people or those who work with their hands) or simple preference.
From the designer's standpoint, it is much more fun when the couple is interested in incorporating personal symbolism in their bands. After all, these rings are some of the most significant pieces of jewellery many people will ever own—or in some cases, the only jewellery.
Engagement ring equilibrium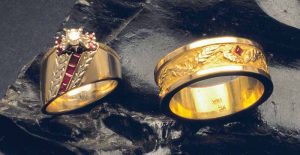 I take several approaches when designing wedding bands for my clients. In case they already have an engagement ring (or if we are designing that ring initially), I try to ensure the wedding band will fit comfortably and be compatible with the engagement ring. Too many jewellers sell and couples purchase engagement rings without considering the eventuality of the wedding band.
Many engagement rings—especially those that are commercially available—are simply not designed to work with a wedding band unless the band is specially fitted to match. This can be satisfactory, but should the client wish to wear only the simpler wedding band on its own (perhaps for travel or work reasons), these fitted bands often look like they have lost their best friend and don't stand alone successfully. It is important to discuss this with the client when designing an engagement ring to avoid future problems.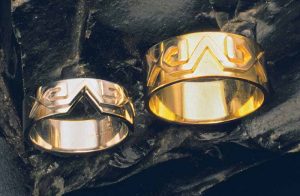 Some couples will opt for a basic ring for one of them and a more elaborate design for their partner. This can be simple preference or again, the need to complement an engagement ring with a more elaborate wedding band. Given wedding rings are symbols of unity, I often try to incorporate a common thread in the design where possible to mark the connection of their union. Of course, some couples are very similar in taste and style and wish to have completely matching rings. Others are more of the 'opposites attract' model, and it can be a bit more of a challenge to tie two disparate esthetics together while still expressing their individuality.