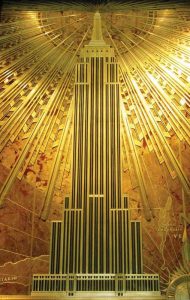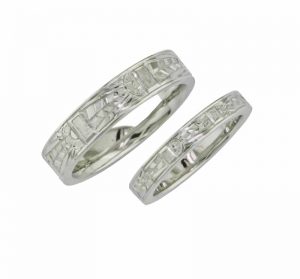 While uncommon, once in a while both people in a couple actually have the same size fingers. To really seal the marriage union in one such case, we were able to make one very wide plain band in white gold, which was then split into two on the diagonal to give the closest representation of their bond. Adding individuality, narrow yellow gold bands were overlaid on each white gold band—one on the straight edge, and the other on the angled side. A pair of matching round brilliant-cut diamonds were bezel set and attached, bridging the yellow and white gold components of each ring.
On another occasion, wide bands with an angled offset were each set with a suite of natural, fancy colour marquise-cut diamonds, creating a leaf-like design. To differentiate them, the single contrasting yellow rim was attached to the angled side of one ring and the straight side of the other.
Another couple with almost the same finger size wanted bands that were each in two parts. First, we made platinum bands with a lower level (one engraved 'FUTURE,' the other 'PERFECT'—words of significance to them). Next were two yellow gold bands (engraved on the inside with the same words), which would ultimately slip over the platinum bands, hiding the now 'secret' engraving.  The challenge was they each wanted to wear the platinum rings with the gold bands for the year preceding their wedding and then exchange the gold bands on the wedding day to symbolize the union. We were able to adjust the outside diameters of the lower sections and the inside diameters of the yellow bands so they would fit either base ring.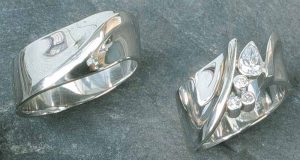 Designing and creating the perfect rings to seal the union of two people is one of the most satisfying of projects. Whether the couple has matching tastes, wildly disparate esthetics, or simple, classic ideals, these rings have great significance and are perhaps the most widely worn of all the jewellery we make and sell.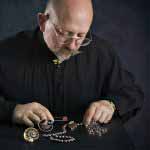 Llyn L. Strelau is the owner of Jewels by Design in Calgary. Established in 1984, his by-appointment atelier specializes in custom jewellery design for local and international clientele. Strelau has received numerous design awards, including the American Gem Trade Association's (AGTA's) Spectrum Awards and De Beers' Beyond Tradition—A Celebration of Canadian Craft. His work has also been published in Masters: Gemstones, Major Works by Leading Jewelers. Strelau can be reached via e-mail at designer@jewelsbydesign.com.