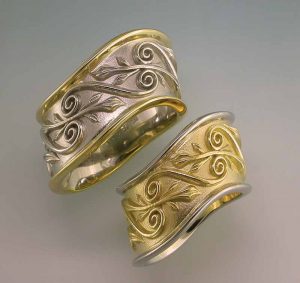 If I design a wedding band to fit with the client's engagement ring, I will try to design her partner's ring to match or at least contain some reference to the first band. One couple wished to use the man's grandmother's antique diamond ring as the engagement ring. I used the stylized leaf/scroll motif on the shoulders of the old ring and carved the design in a white gold centre band (accented with small bead-set diamonds), then added yellow gold rims for contrast. His band, which had to fit a much larger finger size, was wider to maintain the scale and had a yellow gold centre section with contrasting white gold rims.
Another pair of clients, who also chose to use a family heirloom ring as their engagement ring, presented a small challenge. The engagement ring did not have a straight edge, which would have permitted a flat band to snug up against it, and required an indented triangular recess. This worked well with the stylized Greek key motif on the shoulders of the original antique ring. We reflected this in a raised appliqué motif on a white gold band to match the white gold engagement ring. His band has the same motif (without the recessed section), but in yellow gold to suit his preference.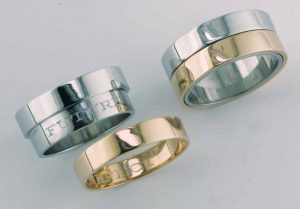 A vintage diamond and ruby engagement ring was rather delicate, and the client wished to have a more substantial wedding band that better suited her hand. I designed a wide band that was wider on the pinkie finger side (this accommodates the 'offset' in many clients' hands—a drop in the web between the little and ring fingers when compared to the web between ring and middle fingers). We overlaid white gold wheat motifs flanking a row of square rubies for her ring, and the man's ring continued the wheat design with a single square ruby.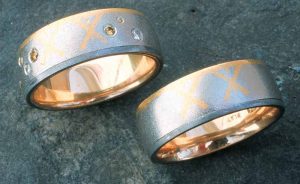 A couple I worked with who had a simple diamond solitaire loved the art deco period of design. After some research, I found an image of a golden screen in the Empire State Building in New York. I abstracted the motifs in this screen and translated them to the much-smaller proportions of the matching wedding bands.
When an architect and his fiancé asked me to design their wedding set, the result was very 'architectural.' Her engagement ring had a trapezoidal top view and a slot on one side, and a small bezel-set diamond feature. Her wedding band was a simple triangular shape, stepped down in height from the engagement ring and completing an overall rectangular form. His band was rectangular, but had a small recessed triangular section to mimic her rings.