Complement and contrast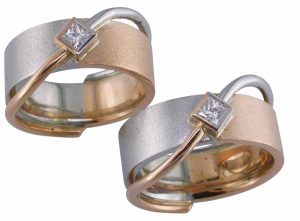 For those clients who choose "one ring to rule them all" and only have bands to seal their union, the design process offers more creative scope. To be sure both members of one couple could remember their wedding date, I designed very simple bevelled knife-edge bands and hand-engraved that significant date in Roman numerals, repeated around the circumference.
Keeping a common thread while maintaining personal identity, another couple chose plain half-round white gold bands. His had a ball peen hammer texture and a round yellow gold wire overlay straight down the middle, and hers featured subtle bead-blast texture and the yellow wire on the diagonal.
Another couple liked wide bands in a combination of yellow and white gold. She enjoyed an organic design with a continuous raised vine all around it. Carved leaves and rose gold flowers completed the design with raised contrasting white gold rims. Her husband wished to have a less flowery design, so I simply extracted the basic line of her vine and recreated it with a round, white gold wire inlaid in a groove in the base yellow gold surface.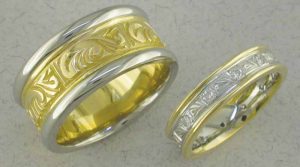 I used the reversal of gold colours to distinguish a set of wide organic scroll motif offset bands. Hers had a central yellow gold section with raised leaf, vine, and scrolls flanked by white gold rims. His band was simply the inverse of hers. Designing using computer-aided design (CAD) made it easier to match the motif even with the difference in finger size.
Another local couple owns and operates an apiary business. Their wedding bands were inspired by the symmetry of the honeycomb. These rings also incorporate the offset concept to comfortably fit a wider band on a finger that would otherwise not be able to accommodate it. Using CAD, I created the carved hexagon shapes and cast the centre in yellow gold with added white gold rims. Her ring had a scattering of honey-toned, natural fancy colour diamonds in some of the cells.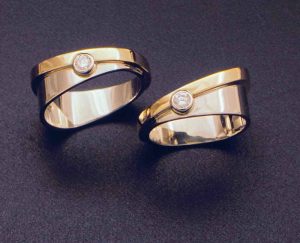 Another wedding set offering the comfort of an offset style features platinum möbius strip designs. This twisted ribbon with only one continuous edge is a suitable expression of the bonds of matrimony. We accented these rings with bezel-set round diamonds in yellow gold. The larger stone in her ring nestled in the curve, with a smaller stone inset into the flat surface of his band to maintain similarity with individuality.