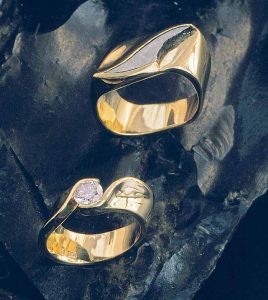 In a further example of complementary contrast, I designed bands for a couple with minimalist style. Her ring had a princess-cut diamond bezel set on the diagonal. The stone bridges a flat band that has a wider tapered white gold half overlaying a narrower tapered yellow gold extension. To add further contrast, the bezel of the diamond is half yellow gold (on the white side) and half white gold (on the yellow side). His band simply reversed the colour positions, with overlapped yellow and white gold sans diamond.
I used the technique of casting yellow gold into a pierced platinum base ring for bands for two men. They had ties to New Zealand and gave me a reproduction of a Maori motif depicting two stylized male figures side by side, holding a paddle above their heads. This graphic design worked well to give a subtle reinforcement of the symbolism of their union and life together. One of the couple chose to have a scattering of natural fancy colour diamonds flush set into the band, while the other was left plain.
Another set ventured further from the matching of wedding rings while still trying to maintain some common thread. Hers has a solitaire round diamond channel set between two offset S-curved raised rims. His band also has the S curves, but they are reduced and used to hold a slice of Gibeon meteorite. We left the original, natural surface crust (created when the meteor hurtled through our atmosphere on its way to earth) to give a rugged, masculine touch.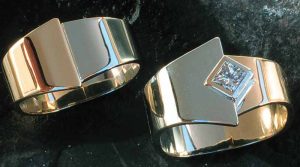 For another couple, wide matching platinum bands—also in the smooth, curved offset form—were each pavé set with a sinuous line of tiny diamonds. Hers were white stones and his were black diamonds—another way to match while still giving individuality.
Creating a perfect fit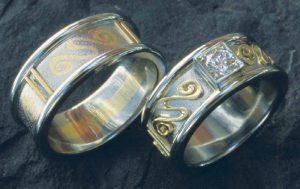 Somewhat more complex were bands for a couple who not only had very different finger sizes (he was size 12 and she was size 5), but also shared an interest in nature. They still wanted personalization, so her narrow ring had intertwined branches with realistic birch leaves, while his wider band had greater scope for the twined branches, with sprigs of pine needles interspersed.