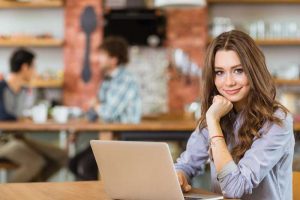 Convert traffic into leads
With the amount of thought and effort that goes into your blog, don't miss the opportunity to turn traffic into leads. Wainwright notes each blog post should incorporate a call to action, allowing you to collect information from visitors so you can reach out to them with new promotions and specials. To encourage visitors to provide their information, Wainwright advises to refrain from simply offering a subscription to the blog. Instead, offer readers a chance to be the first to learn about special promotions. Other compelling calls to action include a free offer or a promotion code for online purchases on your website. The traffic-to-lead conversion must offer something of value to the client.
The downside to blogging is the added time commitment required. A successful blog is regularly updated with timely and current content. If a blog sits idle for too long, visitors are left with the impression the business is lagging, inactive, or defunct. If you add a blog to your website, be sure to stick with it and give it the time it deserves to produce real results for 
your business.
In DeMers' Forbes.com article, he notes, "According to HubSpot, overall return on investment (ROI) is also more likely to increase for companies who blog; in fact, businesses who prioritize blogging experience a 13x increase in ROI, year after year."
The benefits of blogging can clearly make a big impact on your business when you give it the proper time and thought required. 
Jeffrey Ross and Patti Moloney are a husband-and-wife duo that has used innovative thinking and technology to develop and expand their line of Dimples charms across Canada. They are also owners of Jeffrey Ross Jewellery, 
a custom jewellery design studio in Uxbridge, Ont.