By Carly Midgley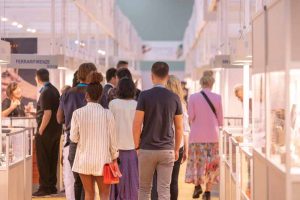 Las Vegas: land of glitter, glamour, lights, and luck. What better place could there be to host one of the biggest jewellery events of the year? In its 2018 edition, from June 1 to 4, JCK Las Vegas returned to Mandalay Bay Resort & Casino one final time, creating a show floor that glowed with the hottest styles and buzzed with the latest industry news.
This year, the eyes of many attendees were on synthetic diamonds—both inside and outside of the show's new lab-grown pavilion. De Beers Group's announcement it will begin selling a fashion jewellery line featuring synthetic diamonds at prices as low as US$800 per carat left many vendors and visitors wondering about the future of the market.
"Based on some of the JCK show prices of lab-grown diamonds—as low as 70 to 80 per cent off Rapaport prices—De Beers' Lightbox launch has already caused lab-grown diamond prices to drop," says Renée Newman, author of The Diamond Handbook.
This isn't the only wave of change bound for the jewellery industry, either. At JCK 2018, increasing demand for social and environmental responsibility was not far from attendees' minds.
"Consumers, especially younger ones, are becoming more aware of sustainability issues concerning jewellery," says writer and JB contributor Cynthia Unninayar. "Brands are taking note and are using an eco-friendly approach in their marketing."